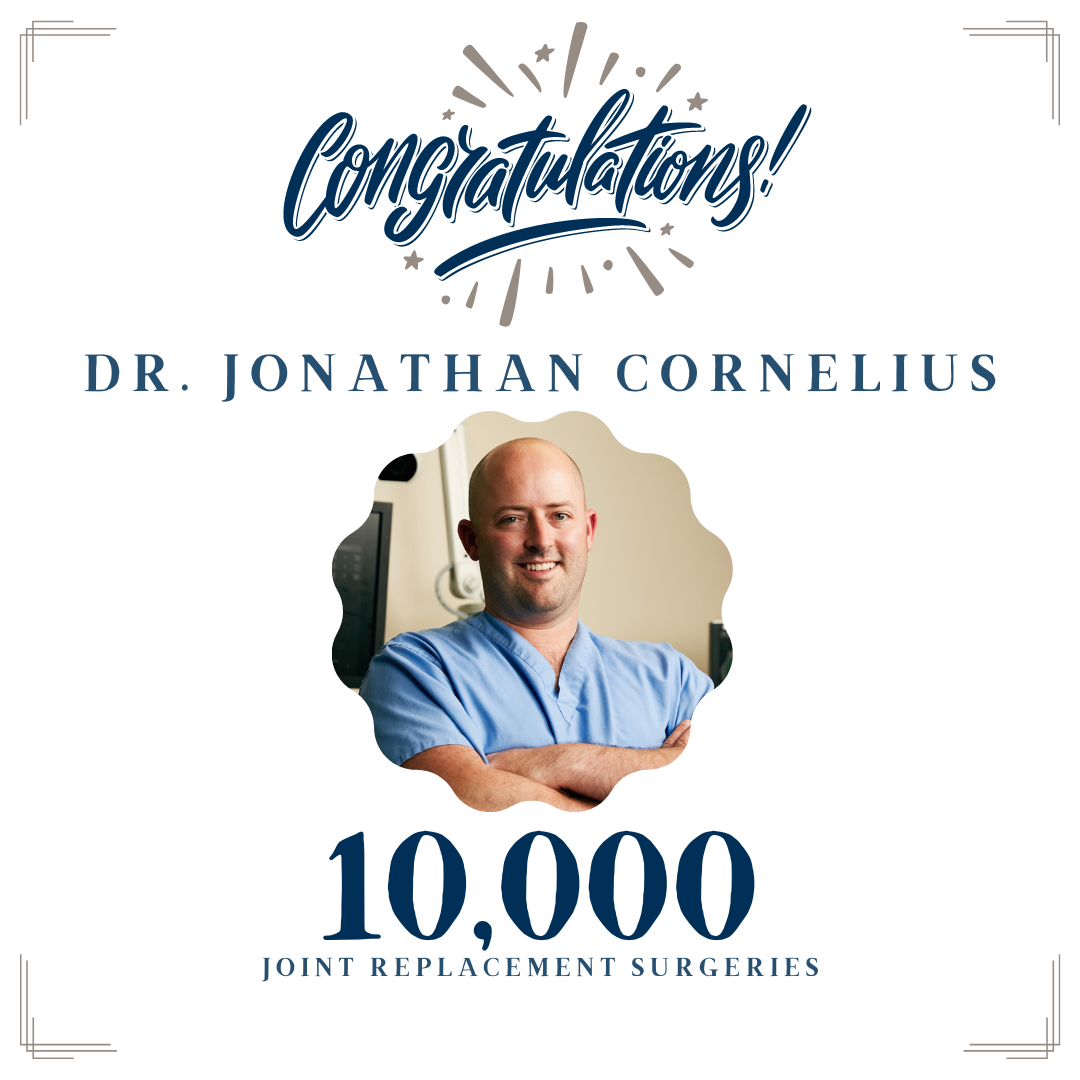 Lebanon, TN., October 28, 2022 — Jonathan P. Cornelius, MD, of Hughston Clinic Orthopaedics has completed 10,000 total joint replacements during his career. This is a remarkable achievement since most surgeons do not reach this benchmark until much later in their careers, if ever. Hughston Clinic Orthopaedics applauds Dr. Cornelius for such an accomplishment in the peak of his career. His achievement does not come as a surprise, though, as Dr. Cornelius celebrated the completion of 2,500 MAKO Robotic Joint Replacements this past August.
"Milestones are a time for reflection. As I prepare to perform surgery 10,000, I am deeply humbled. Those patients have placed their trust in me to help improve their life and it is a responsibility I have never taken lightly," remarks Dr. Cornelius. "The past thirteen years of practice have seen great improvements in surgical care for patients. As I reflect on the past, I am also filled with gratitude at the number of caring, passionate and excellent people that I have been blessed to work with along the way. Surgery is a team sport and I have had some pretty fantastic people to work with along the way. I am excited to see what the future holds!"
Dr. Cornelius was the first surgeon in Tennessee to adopt robotic joint replacement of the knee and hip starting in 2011. He continues to bring this cutting edge technology to his patients. In addition to joint replacement of the knee, hip and shoulder, he also treats a variety of sports medicine and trauma conditions. He is a team sports medicine physician for Wilson County Schools. He serves on the Board of Directors of Vanderbilt Wilson County Hospital and is the current President of Hughston Clinic Orthopaedics.
"Hughston Clinic Orthopaedics is proud to honor our Board President, Dr. Cornelius, on this amazing accomplishment," states Hughston Clinic Orthopaedics' COO Lee Pearce, "Dr. Cornelius provides world-class care for his patients and world-class leadership for our organization of 25 providers and 125 team members. Hughston Clinic Orthopaedics is thankful to have him as part of our amazing team serving patients in Tennessee."
Dr. Cornelius sees patients in the Hughston Clinic Orthopaedics Lebanon office and operates at Vanderbilt Wilson County Hospital and Summit Hospital. To make an appointment, visit tn.hughston.com or call (615)547-6700.
Last edited on October 27, 2022