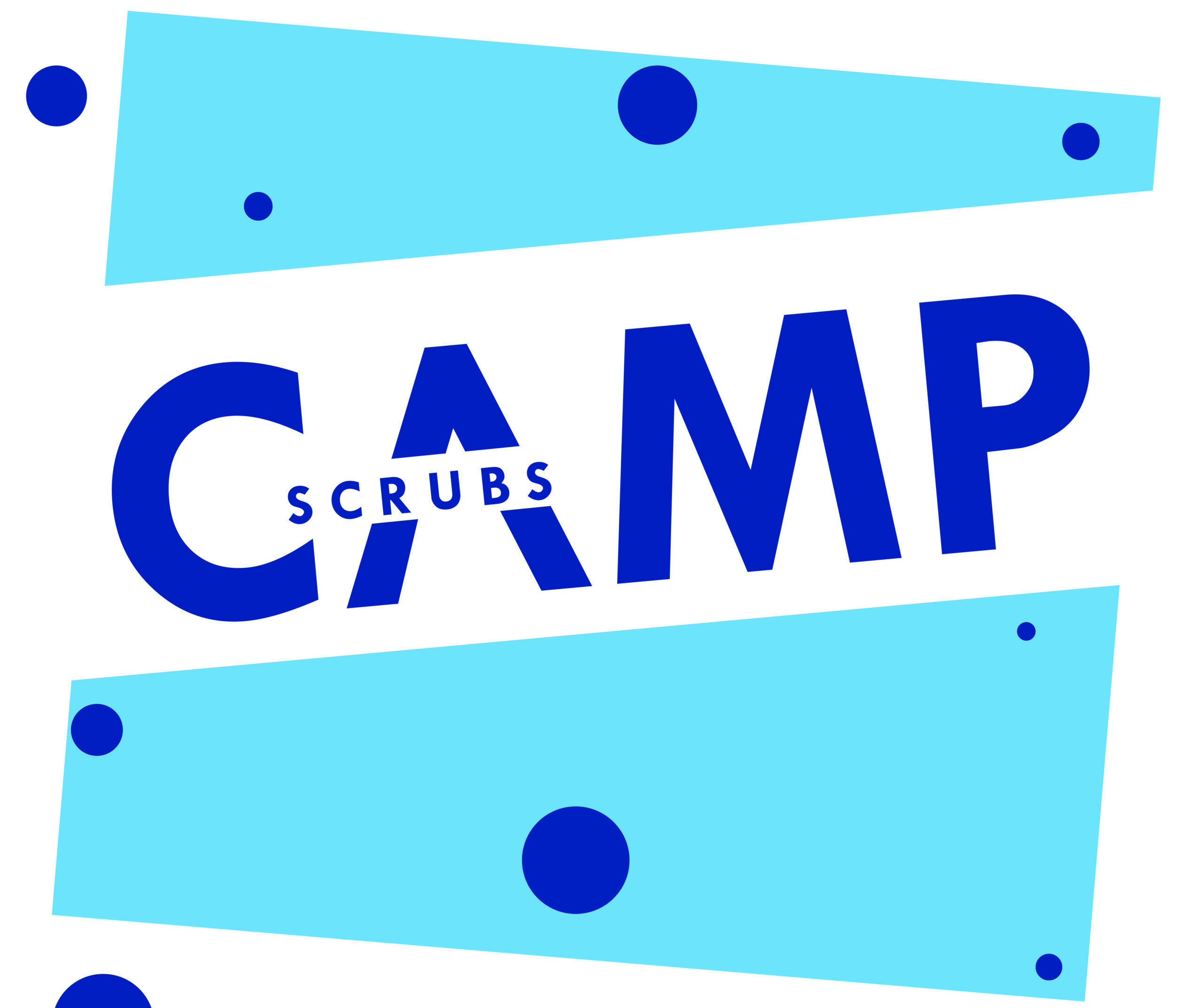 Nearly 80 high school and first-year college students came from across Georgia to attend Scrubs Camp in Columbus, GA, in June and July. The Hughston Foundation, Three Rivers AHEC, Columbus Technical College, and Columbus State University hosted 3 summer camps for students who have an interest in the medical field, especially orthopedics, surgery, nursing, and rehabilitation.
Every student received their own scrubs tops, which many wore to camp each day. In addition to tours of each facility and lectures, the students were able to experience many hands-on activities. Some of the speakers and topics covered during camp included, orthopedic technologist, medical writing, medical illustration, radiology, surgical nursing, surgical technologist, physician and medical residency program, occupational therapy, physical therapy, and athletic training. Additionally, the students enjoyed surgical technology in the operating room, dental hygienist, respiratory care, nursing, and obstetrics.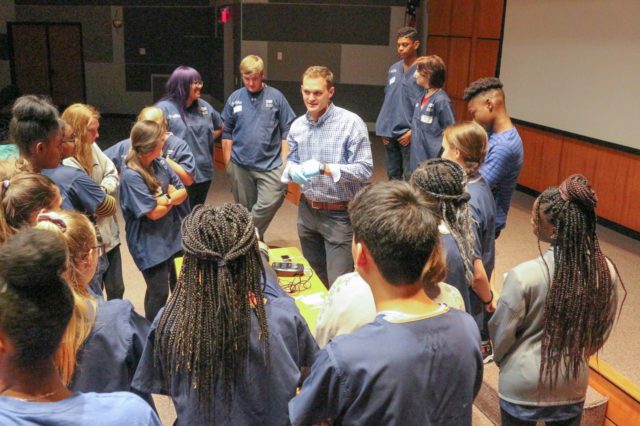 The Hughston Foundation hosted the program for two days. In the athletic training and rehabilitation component, students learned how to apply athletic tape to help prevent injuries. During the presentations, the students watched videos that show athletic injuries as they happened and how athletic trainers assist athletes immediately after an injury occurs. Medical professionals taught the students how casts are applied and how to fit different types of braces. They also saw a demonstration of rehabilitation techniques, made their own thumb splints with the occupational therapists, and learned about concussions. The students especially enjoyed designing their own concussion prevention devise and testing its integrity.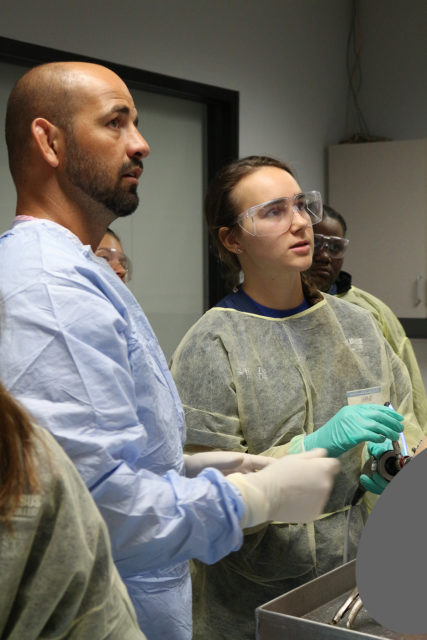 Some of the most exciting things they were able to do at the Hughston facility involved the knee and shoulder structures. A surgeon discussed shoulder anatomy and demonstrated an arthroscopic and open dissection using a cadaver shoulder. Additionally, they watched a total knee replacement surgery narrated by and orthopedic surgeon as he performed the surgery. The students were also able to try suturing techniques using pigskin in the Surgical Education Center. The students particularly enjoyed trying their hand at knee surgery using the arthroscopic knee simulators where they removed "loose bodies" from the knee.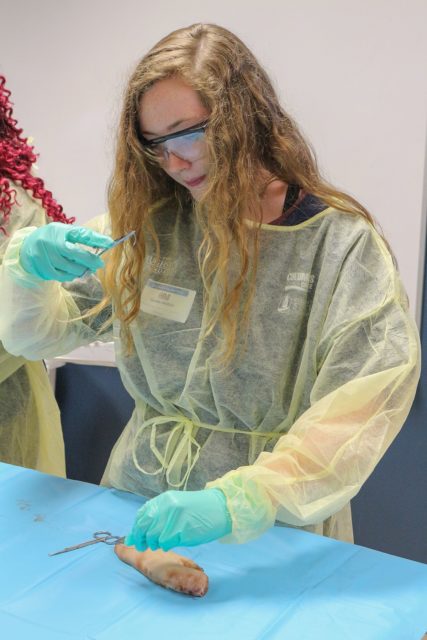 Another day of the camp took place at Columbus Technical College where students had the opportunity to learn about the different associate degrees that are available and had a chance to observe "real life" medical environments and scenarios. Respiratory simulators were used for the students to practice doing intubations. They were able to tour the dental hygiene, radiology, and pharmaceutical departments and learned about their educational requirements.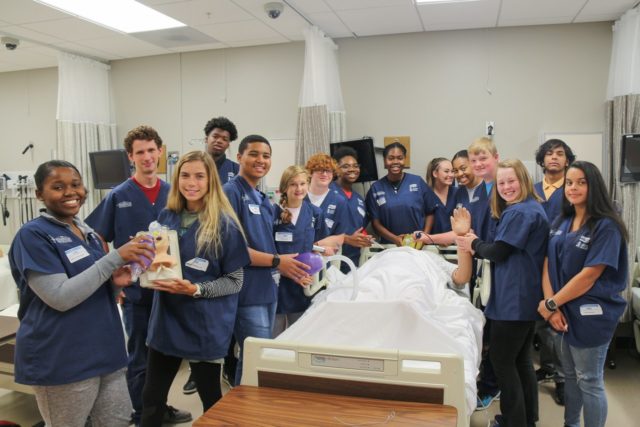 Additionally, Columbus State University spent a day with the students, providing them with an experience of college life. The students spent a day at the Frank Brown Hall School of Nursing facility at the downtown campus. Students were able to see the medical education opportunities offered by CSU and observe medical simulations in the pediatric and obstetrical laboratories.
The camp received excellent reviews from the students who participated. The camp sponsors include Hughston Clinic and Foundation, Three Rivers AHEC, Columbus Technical College, and Columbus State University, Arthrex, NuNasive, Aflac Foundation, and Smith & Nephew while Renasant Bank, It's Your Day Catering, and VCOM sponsored the lunch and learn programs.
Last edited on June 15, 2021