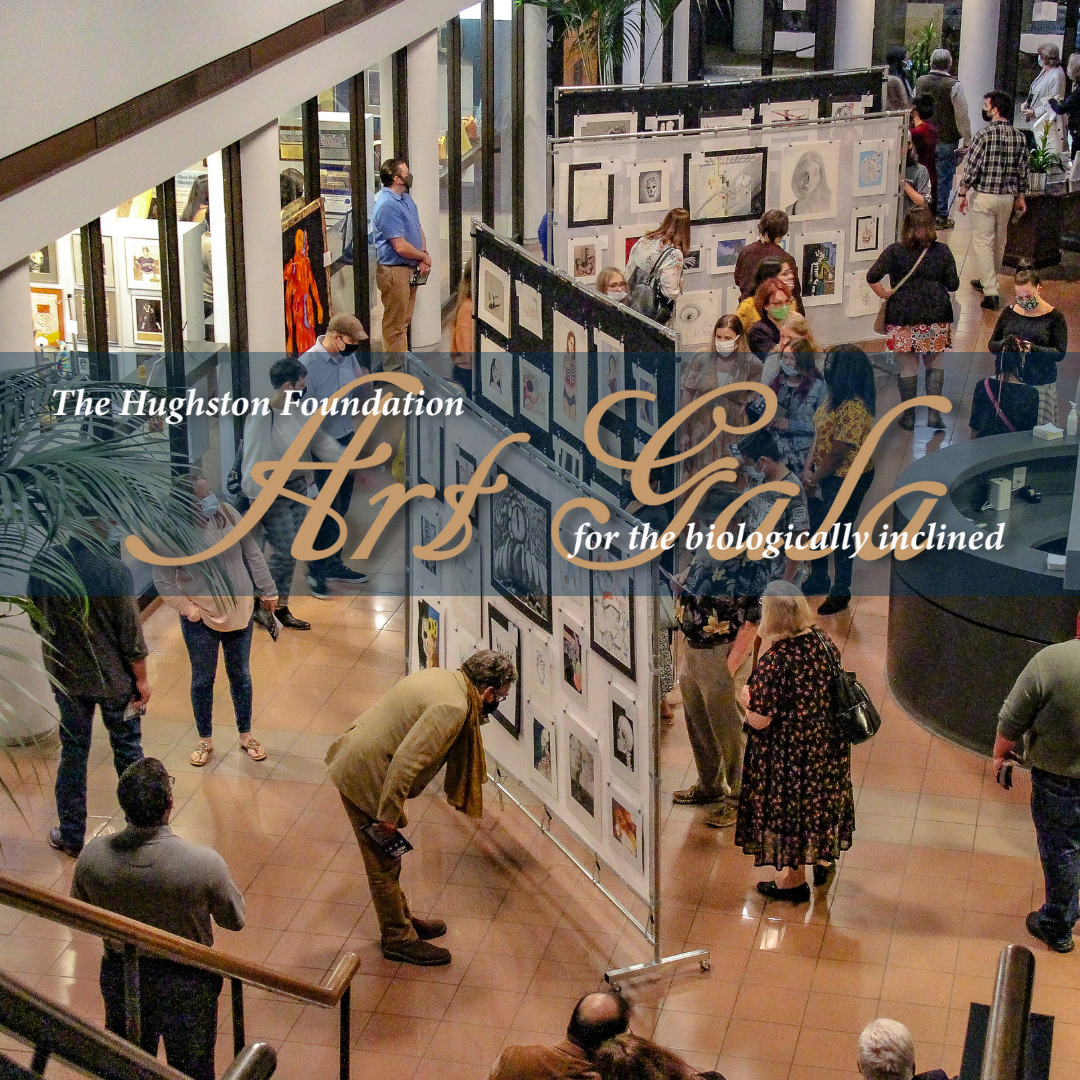 2022 Art Gala Exhibition Recap
Once again, the Hughston Foundation collaborated with Harris County High School Work Based Learning Program to offer the 5th Annual Art Gala Competition and Exhibition. High school and middle school students (6th – 12th grades) throughout Georgia were invited to submit biologically or medically inspired entries under drawing, painting, photography, 3D, or mixed media categories to the competition. The gala was held November 10, at 7:00 pm at the Hughston Foundation.
This year, administration, teachers, students, and parents attended the exhibition of 180 entries both in-person and online. The furthest submission came from Richard Hill High School in Richard Hill, GA, and overall 28 schools and organizations were represented. For this competition, the Hughston Clinic proudly supported the top 6 STEAM awards presented to the first through third middle school and high school entries for a total of $5,000 in scholarship prizes. Additionally, the Georgia Healthcare Science Technology Education Foundation sponsored two $250 awards for third place winners. Also presented were two Dr. Champ Baker, Jr., Best Anatomical Awards for $500 each, one for a middle and high student. David C. Rehak, MD, presented two Best-Hand Picked Awards for $250 for both high school and middle school entries. Additionally, a $1,000 Columbus State University (CSU) scholarship was awarded to the top junior or senior winner. Kurt Jacobson, MD, and David Rehak, MD, along with renowned artist Bo Bartlett helped present the awards.
Congratulations to our 2022 winners:
STEAM Awards
The 6 STEAM Awards were presented (First Place = $1,500, Second Place = $750, Third Place = $500) based on the top 3 scores for Middle School aged student, 6th – 8th grades, and the top 3 highest scores for High School aged student, 9th – 12th grades.

Middle School STEAM Award Winners:
1st – Addison Alley – "eye know my worth"
2nd – Fabian Weidler – "Drawing hands"
3rd – Kamora Walker – "Diseased Lungs"

High School STEAM Award Winners:
1st – Hailey Jackson – "Inner Beauty"
2nd – Jazmin Muniz – "Focus"
3rd – Aliza Brown – "Disciple of Circe"

Champ Baker Best Anatomical Awards:
Anatomical Award – Sindhuja Nifadkar –"Biological Framework"
Mixed Media Award – Odalis Dominguez- "Still Here"

David C. Rehak, MD, Hand-Picked Award:
Middle School Award – Fabian Weidler – "Drawing hands"
High School Award – Victoria Wells – "Hand"

CSU Scholarship
The Departments of Art, Biology, and Exercise Science have collaborated on a $1,000 scholarship. The student must qualify for admission to CSU and must enroll at CSU with a major or minor in Art, Biology, Kinesiology, or Health Sciences. The student must remain in good academic standing for the duration of the award period. CSU credits the award to the student's CSU account and divides it over the first 2 semesters of full-time enrollment.
2022 Columbus State University Scholarship Winner:
Haley Jackson – "Inner Beauty"

Honorary Media Award Winners:
Drawing:
Middle School: Stephanie Gallardo – "A final dance"
High School: Maya Johnson – "Heart of the Matter"
Painting:
Middle School: Hailie Kong – "Heart Full of Love"
High School: Sophia Sun – "What Was Once His"
Mixed Media:
Middle School: Frank Parler – "External Fixation"
High School: Natalie Tan – "Her journey"
3D:
Middle School: Hope Fredericksen – "The Strings of a Heart"
High School: Elizabeth Wilson – "teeth and throat"
Digital:
Middle School: Vanessa Perez – "Study Session"
This is the first time we have had a tie for the high school award:
High School: Brooke Johnson – "The Ribbon of Hope" and Maya Weldon – "Athlete's Weapon"
Photography:
Middle School: Evalina Kinkade – "In Skullie's Tavern"
High School: no submission

Best in Show: Sponsored by the Bo Bartlett Center
The top middle and high school students who win the online popular vote will have their artwork displayed at the Bo Bartlett Center (921 Front Avenue, Columbus, GA 31901) for approximately a month. An opening will be held at the Bo Bartlett Center on Wednesday, December 8, at 6:00 pm to recognize these students.
Best in Show Winners:
Middle School: Abigail Grace Hayes – "Self Reflection"
High School: Hailey Jackson – "Inner Beauty"
---
The Hughston Foundation would like to thank the Georgia Council for the Arts (GCA), a strategic arm of the Georgia Department of Economic Development, for a grant to cover expenses for some of the artwork displays. We would also like to thank the Hughston Clinic and its physicians, Bo Bartlett and the Bo Bartlett Center, as well as the teachers throughout the state of Georgia who support their students during this competition.
The Hughston Foundation Art Gala for the Biologically Inclined is perfect for students who would like to unmask the exciting world of art and science. This biological and medically inspired art contest encourages students to create artwork while integrating the principle areas of the national STEAM initiative (Science, Technology, Engineering, the Arts, and Mathematics). For more information about the Art Gala, go to hughston.com or contact Belinda Klein at bklein@hughton.com.
Last edited on December 2, 2022