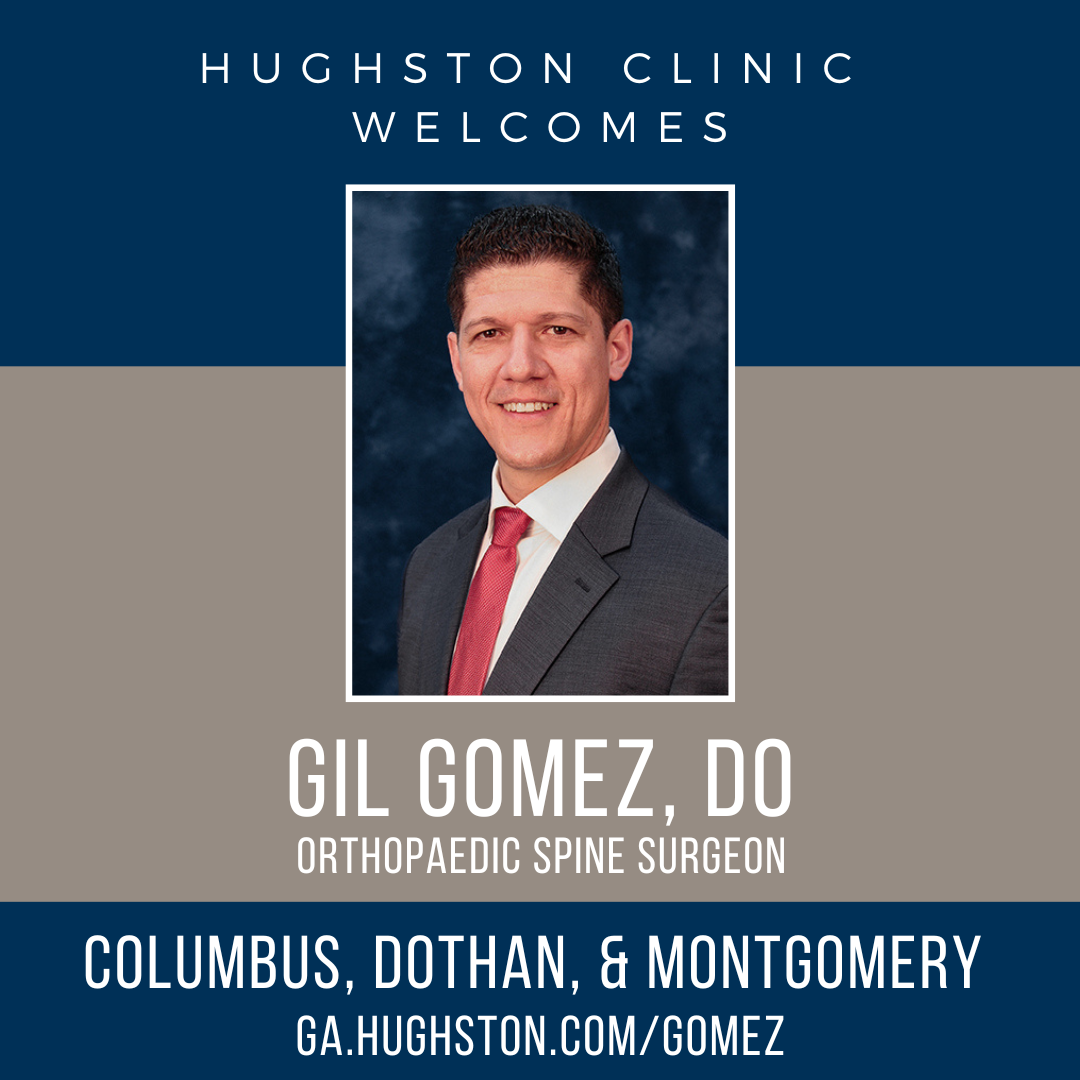 Gilberto "Gil" Gomez, DO, joins Hughston's Spine Service
Gil Gomez, DO, a former resident in the Jack Hughston Memorial Hospital Residency program is joining the Hughston Clinic team. Before coming to Hughston, Dr. Gomez received his Bachelor of Science degree from College of the Holy Cross in Worcester, MA where he played football and baseball for the Holy Cross Crusaders. He also worked on his Master's in Science, Sports and Fitness from University of Central Florida in Orlando where he played for the UCF Knights Baseball Team. He received his Doctor of Osteopathic Medicine from Philadelphia College of Osteopathic Medicine in Suwanee, GA. Most recently, Dr. Gomez completed a one-year AO Orthopaedic Spine Surgery fellowship at Augusta University Medical Center in Augusta, GA.
During his residency, Dr. Gomez served as the Resident director and President of the Resident American Osteopathic Academy of Orthopaedics. He also served as the Education Representative for the Osteopathic Medical Network of Excellence and he was a member of the Graduate Medical Education Committee. He provided team coverage for Kendrick High School and Columbus High School football programs, and covered the Columbus Cottonmouths of the Southern Professional Hockey League. Dr. Gomez has interests in research in various topics to include bone graft substitutes for cervical discectomy and fusion with recent work "Clinical and radiographic outcomes using third-generation bioactive glass as a bone graft substitute for multi-level anterior cervical discectomy and fusion: a retrospective case series study," being published in the June 2021 issue of the Journal of Spine Surgery.
A board-certified orthopaedic surgeon, he is a member of the American Academy of Orthopaedic Surgeons and AO Spine North America. He specializes in orthopaedic spinal surgery with an emphasis on minimally invasive techniques, cervical trauma, and the newest techniques in complex spine surgery. He enjoys spending time with his wife and 3 children, being outdoors and anything sports related. He is passionate about his patients with the goal of finding the best nonoperative or surgical options to obtain the most durable solution for an improved quality of life.
To learn more or to book your appointment online, visit ga.hughston.com/gomez
Last edited on September 26, 2022