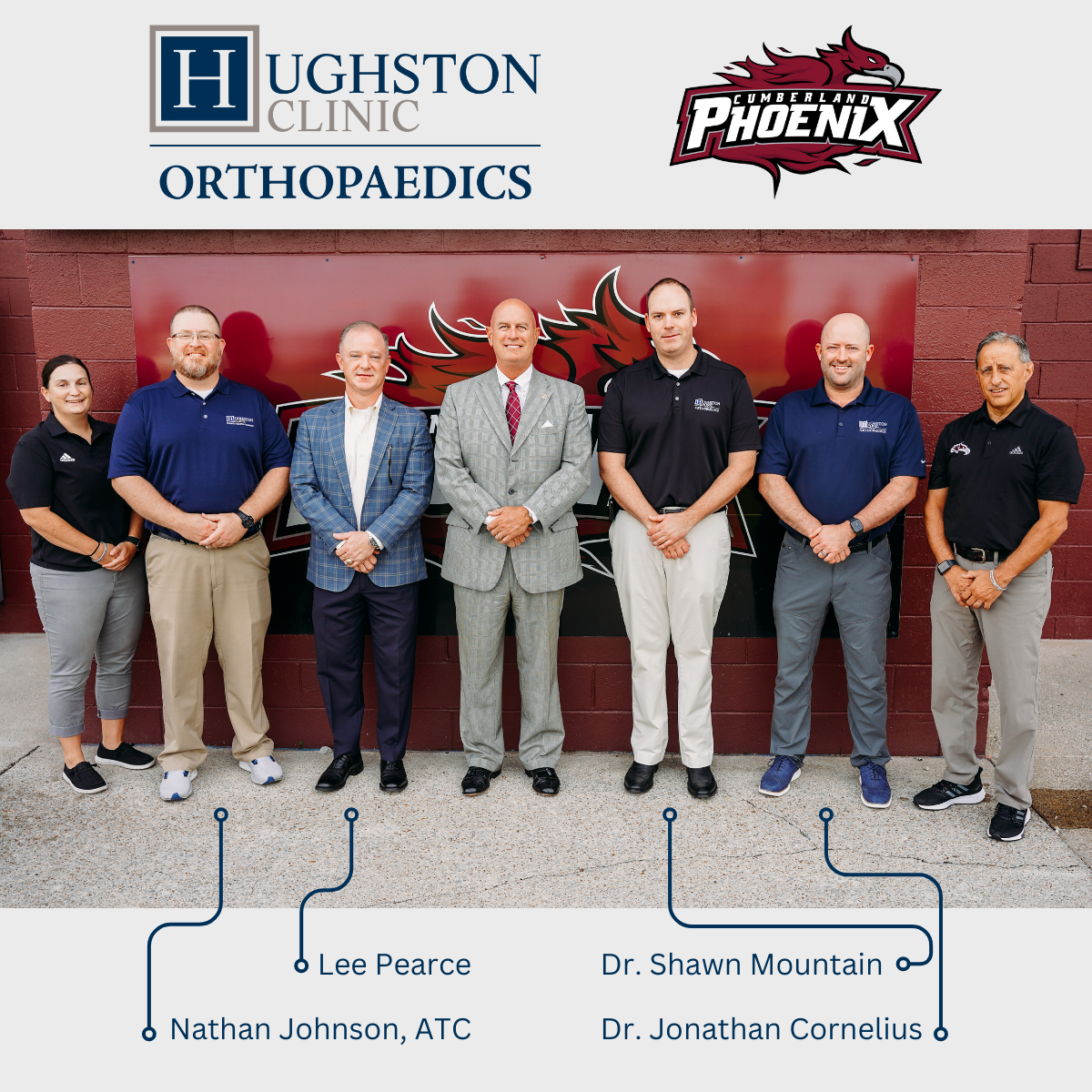 LEBANON, July 26, 2023 — Hughston Clinic Orthopaedics and Cumberland University Athletics Department are excited to announce a new partnership which will provide collegiate athletes with sideline orthopaedic care and treatment.
"Hughston Clinic Orthopaedics is proud to partner with Cumberland University in providing world-class care for student athletes," states Lee Pearce, COO of Hughston Clinic Orthopaedics. "This partnership is a natural progression of our almost 75-year history of caring for patients, started by our founder Dr. Jack Hughston. Dr. Hughston is regarded as one of the fathers of sports orthopaedics. For years, he brought world-class orthopaedic care to high schools in South Georgia and later Auburn University. Our staff and over 25 providers are committed to providing the best care for the people of Wilson County and Middle Tennessee."
Dr. Shawn Mountain, a fellowship-trained orthopaedic surgeon and sports medicine specialist, will serve as Medical Director for Cumberland University Athletics. Over the course of his training and career, Dr. Mountain has worked with several NFL and collegiate teams. He currently serves as the team physician for Friendship Christian School in Lebanon.
Hughston Clinic Orthopaedics already has a tight knit relationship with the Lebanon community and is continuing to expand their services with the building of a brand-new medical office building that will be opening next year. Dr. Mountain will be supported by his Lebanon partners, Doctors Forrest P. Allen, John R. Burleson, Adam R. Cochran, Jonathan P. Cornelius, William N. Melton, Lucas B. Richie, and Michel A. Taylor. They provide a range of specialties including surgeries of the spine, hand, foot, and sports medicine.
Nathan Johnson, HCO's Director of Athletic Training, will also join Dr. Mountain at Cumberland. Mr. Johnson has worked as an athletic trainer for over 20 years. He is a Cumberland University alumnus and is a preceptor for the University's athletic training education program.
Cumberland University's Vice President of Athletics Ron Pavan states, "I am excited about the new partnership between Hughston Clinic and Cumberland University. This is a huge blessing with Hughston Clinic building their facility in Lebanon off of Hartman Drive with our student-athletes getting the greatest care by top orthopedic doctors and staff."
Cumberland University is a member of the Mid-South Conference, an affiliate of the National Association of Intercollegiate Athletics (NAIA) and home to 31 sports teams. Cumberland is proudly committed to providing opportunities for each student-athlete to develop self-discipline through the setting and achievement of goals in the classroom and in their respective sport.
For more information about Hughston Clinic Orthopaedics, please visit tn.hughston.com.
For more information about Cumberland University, please visit Cumberland.edu.
---
About Hughston Clinic:
Hughston Clinic Orthopaedics offers the Greater Nashville area and Middle Tennessee eight convenient locations to provide exemplary orthopaedic care to our surrounding communities. Our board-certified surgeons have a range of specialties such as sports medicine, total joint reconstruction, spine, lower extremity, orthobiologics, and general orthopaedics.
Last edited on July 26, 2023